Hydraulic ball valves
are mechanical devices used in hydraulic systems to control the flow of fluids. They consist of a ball-shaped disc with a hole through its center, which rotates inside a chamber to control the flow of fluid. When the ball is aligned with the flow path, fluid can pass through the valve, but when it is rotated 90 degrees, the flow is blocked.

Hydraulic ball valves are widely used in hydraulic systems for various applications, such as:
1.Controlling the flow of fluid in hydraulic systems: Hydraulic ball valves are used to start, stop or regulate the flow of hydraulic fluid in a system.
2.Pressure regulation: By using a hydraulic ball valve, the pressure in a hydraulic system can be regulated to maintain a constant flow rate.
3.Preventing backflow: Hydraulic ball valves can be used to prevent fluid from flowing back into a system, which can cause damage or malfunction.
4.Diverting flow: In some applications, it may be necessary to divert the flow of fluid from one path to another. Hydraulic ball valves can be used to do this by rotating the ball to redirect the flow.
Hydraulic ball valves come in various sizes, materials, and pressure ratings to suit different applications. They are typically made of materials such as brass, stainless steel, or carbon steel, which provide durability and resistance to corrosion. They are also available in various configurations, such as two-way, three-way, or four-way, depending on the requirements of the hydraulic system.
KHB-M422 M362 M301.5 high pressure pneumatic control ball valve hydraulic stainless steel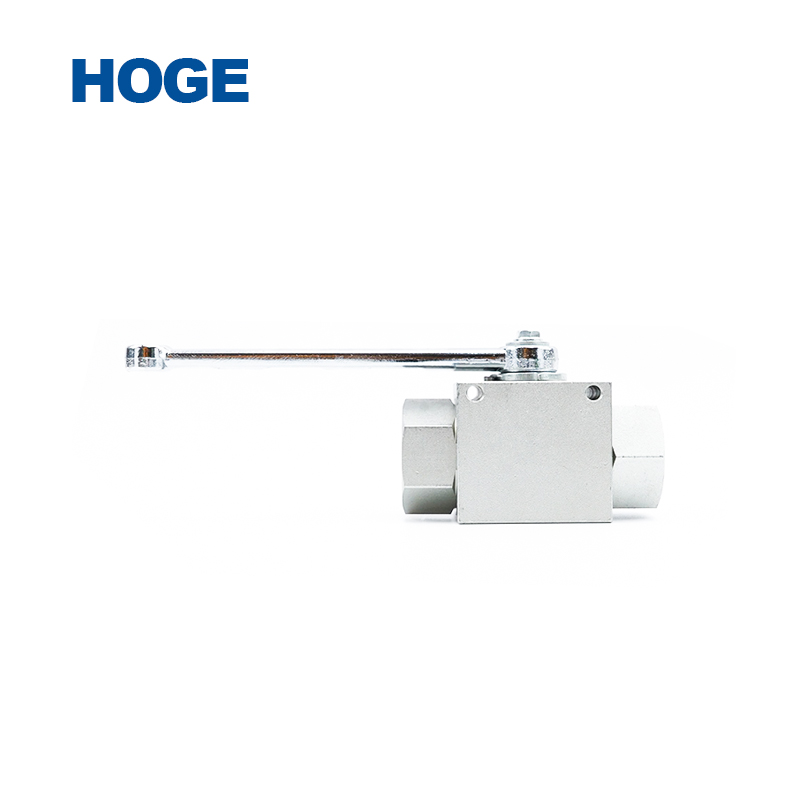 Features
(1)Product code:
KHB-Valve block Ball-Shaped DN04-25/40
KHB-Sleeves Ball-Shaped DN32/50
(2)Thread Size or the pipe diameter and connection type
G1/2
(3)Valve and joints material/Ball and spindle material control
1-Carbon steel 、4-Stainless Steel
(4)The seal material
1-POM、4-Polytetrafluoroethylene 5-PEEK
(5)Joint seal and Control spindle seal
2-NBR、4-FPM、6-EPDM
(6)Handle Type:
04-Casting zinc crooked handle
05-Steel straight handle
06-Steel crooked handle