Yes,
high pressure ball valves
are suitable for both liquid and gas applications. They are designed to handle the high pressures typically encountered in industrial processes involving liquids or gases. High pressure ball valves are commonly used in industries such as oil and gas, chemical, petrochemical, power generation, and manufacturing.

The design and construction of high pressure ball valves allow them to effectively control the flow of fluids and gases under high pressure conditions. They provide a reliable and efficient solution for shutting off, regulating, or diverting the flow of liquids or gases in pipelines, tanks, or other systems.

The sealing mechanism of a high pressure ball valve, typically achieved by a ball with a bore through it, ensures a tight seal when closed, preventing leakage and maintaining system integrity. The ball within the valve can rotate to allow or block the flow, providing precise control over the fluid or gas.
It's important to note that when selecting a high pressure ball valve for a specific application, factors such as the type of fluid or gas, operating pressure and temperature, compatibility with the materials being handled, and any specific industry regulations or standards should be considered. It's advisable to consult with valve manufacturers or industry experts to ensure the proper selection and installation of high pressure ball valves for specific liquid or gas applications.
KHB-M422 M362 M301.5 high pressure pneumatic control ball valve hydraulic stainless steel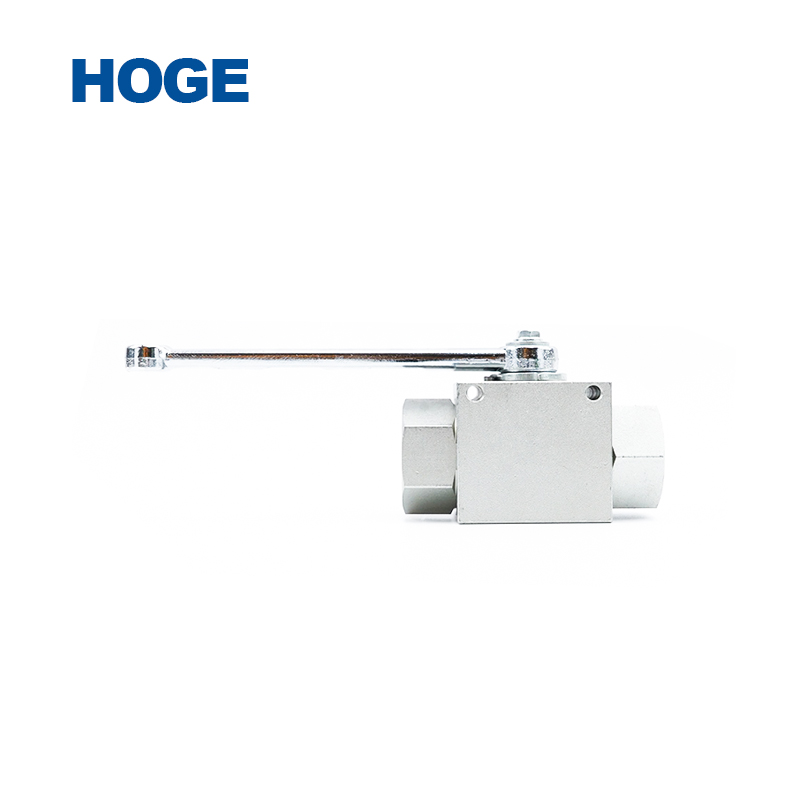 Features
(1)Product code:
KHB-Valve block Ball-Shaped DN04-25/40
KHB-Sleeves Ball-Shaped DN32/50
(2)Thread Size or the pipe diameter and connection type
G1/2
(3)Valve and joints material/Ball and spindle material control
1-Carbon steel 、4-Stainless Steel
(4)The seal material
1-POM、4-Polytetrafluoroethylene 5-PEEK
(5)Joint seal and Control spindle seal
2-NBR、4-FPM、6-EPDM
(6)Handle Type:
04-Casting zinc crooked handle
05-Steel straight handle
06-Steel crooked handle