1. Design and Operation: A 2-way ball valve has a spherical ball with a hole in the middle, which is rotated by a lever or actuator to control the flow of fluid. When the valve is in the open position, the hole aligns with the pipe, allowing fluid to pass through. When the valve is closed, the ball is rotated 90 degrees, blocking the flow. In contrast, other types of valves, such as gate valves or globe valves, use different mechanisms like gates, disks, or plugs to control the flow.

2. Flow Control: 2-way ball valves provide full unrestricted flow when fully open, allowing for efficient and high-capacity fluid flow. They offer a straight-through path with minimal pressure drop, making them suitable for applications that require minimum flow restrictions. On the other hand, some other valves, like globe valves, may cause more pressure drop due to their different internal flow paths.

3. Operation Speed: Ball valves can provide faster operation compared to other types of valves. Since the ball only needs to be rotated 90 degrees to change the flow direction, it can be opened or closed quickly. This feature is essential in applications that require immediate shut-off or precise control of the flow.

4. Tight Shutoff: 2-way ball valves are known for their excellent sealing capabilities. When fully closed, the ball comes into contact with the seat, creating a tight seal that prevents any leakage. This sealing ability makes ball valves suitable for applications where leakages or drips are not acceptable.

5. Versatility: 2-way ball valves are highly versatile and can be used in a wide range of applications. They can handle both high and low-pressure systems and are suitable for various fluids, including gases, liquids, and even slurries. Different materials of construction can be chosen based on the specific requirements of the application, such as stainless steel for corrosive environments or brass for general-purpose use.
6. Durability: Ball valves are known for their long service life and durability. The ball and seats are typically made from high-quality materials that can withstand high pressure, temperature, and corrosive environments. This makes them suitable for demanding and harsh applications where reliability is crucial.
Direct 3-Part 3-Way high pressure hydraulic ball valve with NPT Port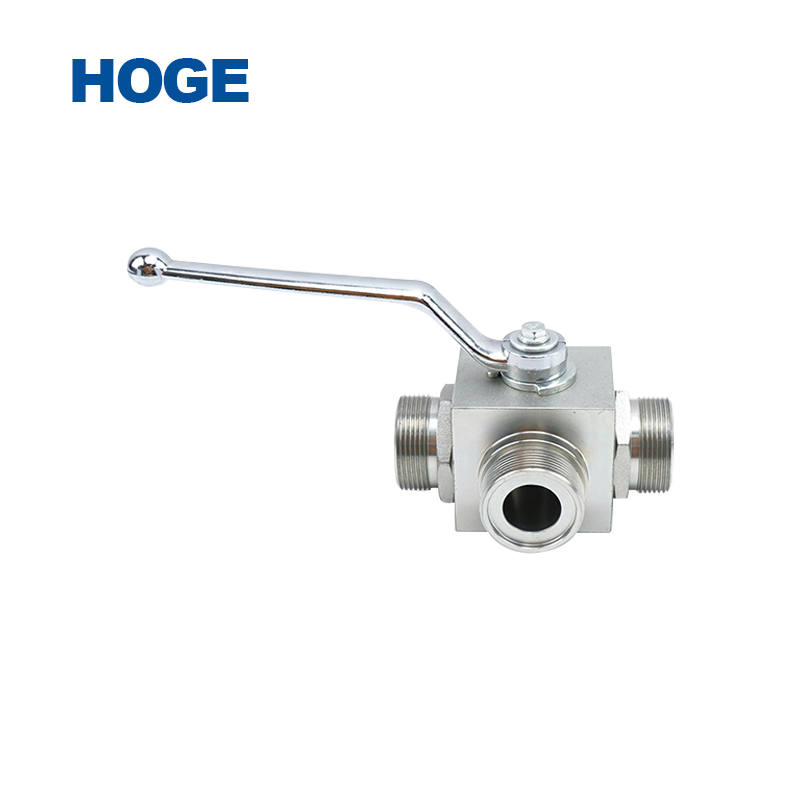 Features
(1)Product code:
KHB-Valve block Ball-Shaped DN04-25/40
KHB-Sleeves Ball-Shaped DN32/50
(2)Thread Size or the pipe diameter and connection type
G1/2
(3)Valve and joints material/Ball and spindle material control
1-Carbon steel 、4-Stainless Steel
Custom according to your dr
(4)The seal material
1-POM、4-Polytetrafluoroethylene 5-PEEK
(5)Joint seal and Control spindle seal
2-NBR、4-FPM、6-EPDM
(6)Handle Type:
04-Casting zinc crooked handle
05-Steel straight handle
06-Steel crooked handleawing or samples