Yes,
hydraulic ball valves
are designed to handle high-pressure applications. They are commonly used in hydraulic systems where there is a need to control or shut off the flow of fluids under high pressure. Here are some key points regarding the ability of hydraulic ball valves to handle high pressures:

1.Pressure Ratings: Hydraulic ball valves are manufactured with specific pressure ratings, which indicate the maximum pressure they can withstand without compromising their integrity. These pressure ratings can vary depending on the valve size, design, and construction materials. It is important to select a hydraulic ball valve with a pressure rating that meets or exceeds the maximum pressure of the hydraulic system.
2.Robust Construction: Hydraulic ball valves are typically constructed using durable materials such as stainless steel, brass, or carbon steel to ensure strength and resistance to high-pressure conditions. The valves undergo rigorous testing and quality control procedures to ensure they can withstand the pressures they are rated for.
3.Seal Integrity: Proper sealing is crucial in high-pressure applications to prevent any leakage or loss of pressure. Hydraulic ball valves often incorporate reliable sealing mechanisms, such as O-rings or metal-to-metal seals, to ensure a tight seal and prevent any leakage under high-pressure conditions.
4.Reinforced Components: Hydraulic ball valves designed for high-pressure applications may have reinforced components, such as thicker valve bodies, stronger stems, or reinforced seals, to provide enhanced durability and reliability under high-pressure conditions.
5.Valve Size and Configuration: The size and configuration of the hydraulic ball valve can also impact its ability to handle high pressures. Larger-sized valves with robust construction tend to have higher pressure ratings compared to smaller-sized valves.
When selecting a hydraulic ball valve for high-pressure applications, it is essential to carefully consider the system requirements, including the maximum pressure, flow rate, and fluid compatibility. Additionally, consult the manufacturer's specifications and guidelines to ensure the selected hydraulic ball valve is suitable for the intended high-pressure application.
KHB-1/2 3/4 1NPT standard stainless steel flange ball valve ball valve pressure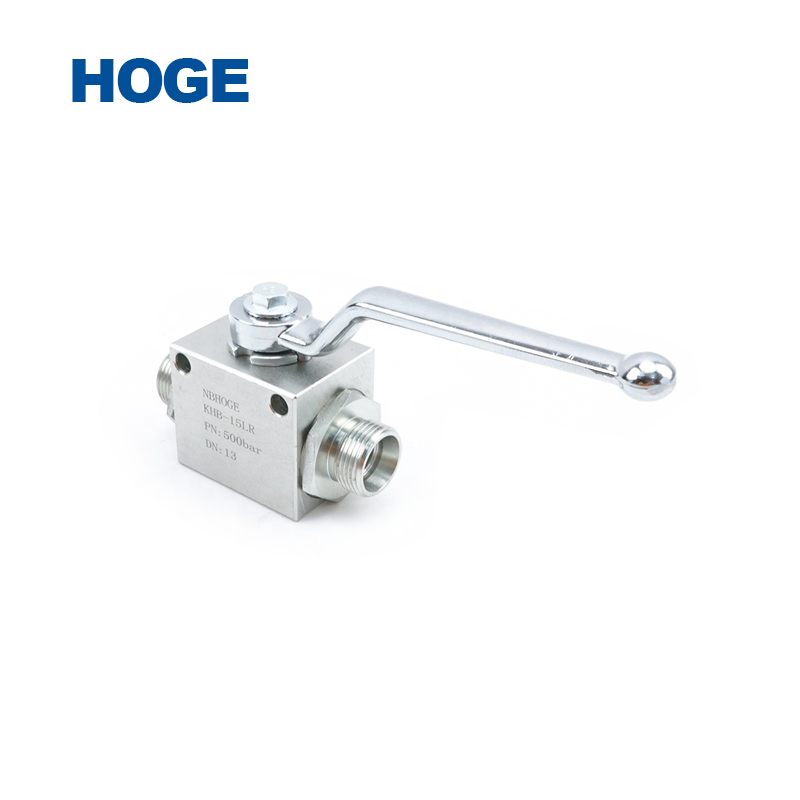 Features
(1)Product code:
KHB-Valve block Ball-Shaped DN04-25/40
KHB-Sleeves Ball-Shaped DN32/50
(2)Thread Size or the pipe diameter and connection type
G1/2
(3)Valve and joints material/Ball and spindle material control
1-Carbon steel 、4-Stainless Steel
Custom according to your drawing or samples
(4)The seal material
1-POM、4-Polytetrafluoroethylene 5-PEEK
(5)Joint seal and Control spindle seal
2-NBR、4-FPM、6-EPDM
(6)Handle Type:
04-Casting zinc crooked handle
05-Steel straight handle
06-Steel crooked handle