High pressure ball valves
require regular maintenance to ensure their continued performance and reliability. The specific maintenance required can vary depending on the type and model of the valve, as well as the application and operating conditions. However, some general maintenance tasks that are typically required for high pressure ball valves include:
1.Inspection: Regular inspection of the valve is necessary to identify any signs of wear, damage or leaks. The valve should be visually inspected for any signs of cracks, corrosion, or damage to the body or sealing surfaces.


2.Lubrication: The valve stem should be lubricated regularly to ensure smooth operation and prevent binding or seizing. The type of lubricant used will depend on the valve material and application.


3.Cleaning: The valve should be cleaned periodically to remove any debris, dirt or other contaminants that may have accumulated on the sealing surfaces or in the valve body.


4.Tightening: The bolts, nuts, and screws that hold the valve together should be checked periodically to ensure they are tightened to the correct torque specification.


5.Repair or Replacement: If any damage or wear is detected during the inspection, repair or replacement of the valve components may be necessary.


It's important to follow the manufacturer's recommendations for maintenance and to consult with a qualified technician or engineer if you have any questions or concerns about the maintenance of your high pressure ball valve.
Carbon Steel Stainless Steel 2-Way DN4-DN50 Hydraulic Valve with 500 Bar Working Pressure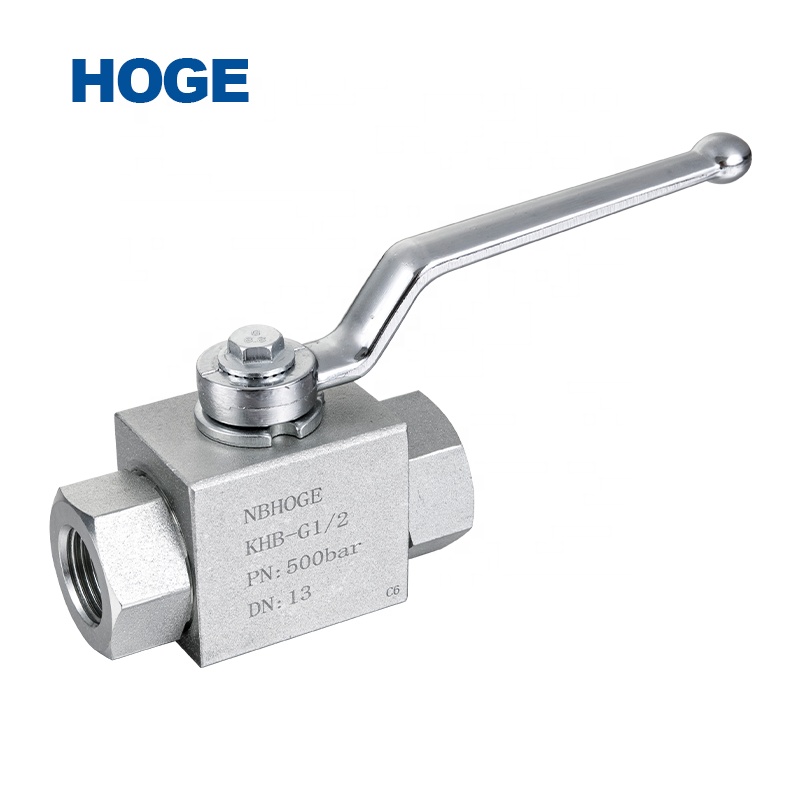 Features
(1)Product code:
KHB-Valve block Ball-Shaped DN04-25/40
KHB-Sleeves Ball-Shaped DN32/50
(2)Thread Size or the pipe diameter and connection type
G1/2
(3)Valve and joints material/Ball and spindle material control
1-Carbon steel 、4-Stainless Steel
Custom according to your drawing or samples
(4)The seal material
1-POM、4-Polytetrafluoroethylene 5-PEEK
(5)Joint seal and Control spindle seal
2-NBR、4-FPM、6-EPDM
(6)Handle Type:
04-Casting zinc crooked handle
05-Steel straight handle
06-Steel crooked handle