A
2-way ball valve
is a type of valve that has a ball-shaped disc inside the valve body with a hole or port that can be rotated 90 degrees to control the flow of fluid. It has two ports or openings, one for inlet and one for outlet, which makes it a 2-way valve. The ball inside the valve rotates on its axis using the handle attached to it, and when it is in the open position, it allows fluid to flow through the valve. When the ball is rotated 90 degrees, the hole in the ball is perpendicular to the flow direction, and the valve is closed, stopping the fluid flow.

The ball inside the valve is typically made of a hard-wearing material like stainless steel, and the valve body can be made of materials such as brass, bronze, or stainless steel. When the valve is in the open position, the fluid flows through the port and around the ball, which is held in place by two seats, one on each end of the valve body. The seats are made of soft materials like PTFE, which helps to provide a tight seal around the ball when the valve is in the closed position.
The 2-way ball valve is a popular type of valve because it is easy to operate, provides reliable shut-off capabilities, and can handle high-pressure and high-temperature applications. It is commonly used in industries such as oil and gas, chemical, and water treatment.
Stainless Steel Ball Valve 2-Way Block Body High Pressure Hydraulic Ball Vave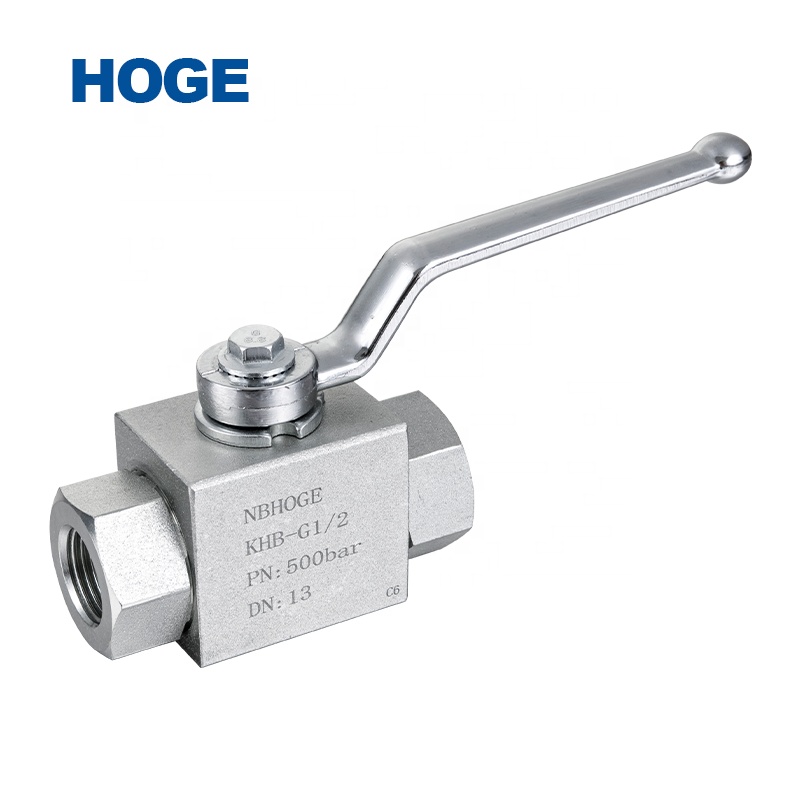 Features
(1)Product code:
KHB-Valve block Ball-Shaped DN04-25/40
KHB-Sleeves Ball-Shaped DN32/50
(2)Thread Size or the pipe diameter and connection type
G1/2
(3)Valve and joints material/Ball and spindle material control
1-Carbon steel 、4-Stainless Steel
Custom according to your drawing or samples
(4)The seal material
1-POM、4-Polytetrafluoroethylene 5-PEEK
(5)Joint seal and Control spindle seal
2-NBR、4-FPM、6-EPDM
(6)Handle Type:
04-Casting zinc crooked handle
05-Steel straight handle
06-Steel crooked handle